inspiring personal growth
teaching Jewish wisdom & Hebrew to all
Entertaining, spiritual, and full of hidden gems found in the Hebrew language.
Dorice would love to come to your community to share her passion and knowledge based on her new book Moments of the Heart.
Tailored Private & Group Learning
Learn Hebrew, Prayer, Torah, and more. Prepare for a B'nai Mitzvah. Endless possibilities. 
thought provoking Workshops
Looking for a Jewish educator, speaker, or author? Workshops in your community, suited to your needs. 
Celebrate the Book Launch!
Click Here to Order Your E-Book on Oct. 29th on Amazon for only $4.99
Celebrate the book's birthday with Dorice!
November 5th at 7PM
Annie Bloom's Books
7834 SW Capital Hwy, Portland, OR 97219
Books Signed by Dorice available for purchase!
Kosher cake and wine served!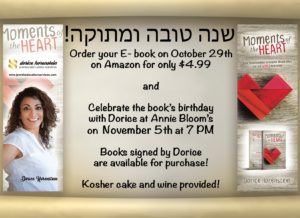 Get the latest on what we're up to, new class offerings, discounts, speaking engagements, and so much more!
© All rights reserved. Jewish Education Services, LLC. 2018