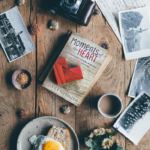 Choosing this Moment
As we approach the end of 2020, (what a year!), I reflect on so many moments. Happy, sad frustrated, comforting, testing moments.  What is the significance of these moments?
Have you heard of the idea of living in the moment? What do you associate with this phrase? Is it adults camping and seeking to connect with nature? Is it meditation? Singing around the campfire?  Does living in the moment means that you don't care about what tomorrow brings? Here is my take:
I chose to be in the moment when our oldest son told me he was gay. I felt that my heart was aching with unconditional love for him. I chose to be in the moment when our daughter shared with us she was pregnant with her first child. My heart exploding with happiness for the unknown future. I chose to be in the moment when our son received the email that he not only got accepted to college but also received a nice scholarship. I sensed the anticipation for exploring and for what's to come.
Choosing to live in the moment is choosing to savor small moments that accumulate into hours, build into days, then weeks, months, and years. And before we know it, these moments become seasons. The seasons of your life. Not all moments are happy; some will be sad, some will be comforting, and yet others will be memorable. 
My book Moments of the Heart emerged out of one such moment. In the fall of 2014, my 38-year-old sister told me she had stage-3 aggressive breast cancer quickly spreading to her lymph nodes. A moment can change your life, and this is one of those moments that changed mine. In this moment I realized that I had to make a decision. I can be paralyzed with fear or instead, I can live in the moment, be fully engaged with my sister, supporting her throughout this healing journey.
I discovered that living in the moment is a choice. So often, we live with these notions: "I would be happy when…," "we will accomplish that project we dream of when…," or "we will reach our goal if…" Most of us choose to live looking toward an unknown future or reliving the memories of the definite past. But is that where we derive meaning in this life? For me, writing my book was a way to find purpose while living in a difficult moment.
The Hebrew language reveals this secret. In Hebrew, the word for a moment is shniah, שניה (which in conversational Hebrew can also mean a second). The word for a year in Hebrew is shana, שנה sharing the same Hebrew root, ש.נ.ה meaning a change. A moment can change yourlife. The word shni-yah, שניה is divided to two syllables. The ending yah, means God. The first syllable can also be interpreted as shoni שוני, which means difference. Where am I going? To this: the word shniyah שניה can be viewed as "Godly difference". A moment can make a Godly difference in your life, only if you so choose. I know that the term "godly difference" is not a common phrase, so perhaps the term divine difference may be more familiar, a time where you felt a sacred shift or awareness in your mindset regarding the happenings in your life.
In an ancient Jewish source called the Talmud, Pirkei Avot, we find Hillel's famous phrase, "If I am not for myself, who will be for me, if I am only for myself who am I, and if not now, when?" The third and last statement brings it all together. We should take care of ourselves because we have the obligation to use this gift of body, mind and spirit until our last breath. We also have the obligation to help others because who are we if we only care about ourselves. But the last phrase is the most telling: we have to do it now. Because only by living in the now are we empowered to take action.
This sentiment is also expressed in Torah (the first five books of the bible). In the Book of Deuteronomy God says, "See, I give you today life and death, good and bad." Why does it mention today? Perhaps that is the only place we can actually be present. The best version of you is reflected in living in the now. Living in the past or waiting for the future cannot influence who we become. Who we become is reflected in living now. The actions, the thoughts, the emotions that we experience right now will determine not only how we will act today, but also tomorrow and the days to follow.
In Judaism there is a blessing we say on special occasions. It is called the Shehecheyanu, blessing God for giving us life, sustaining us, and enabling us to come to thistime, L'zman Hazeh. There is an importance to this time.How do you choose to live in this moment? Isn't that a powerful question? This time, right now, has the ability to change our lives. Are we choosing to be sad or happy? Are we acting in a way that expresses defeat or resilience? Are we showing our trusted friends our vulnerabilities or are we hiding our less-than-perfect selves from the world? Are we choosing to live in denial or are we taking this moment, right here, right now, this shniyah as an opportunity to make a "Godly difference" in our life?
It would not surprise you if I just so happen to mention one more Hebrew gem—the words opportunity,( hizdamnoot), invitation, (hazmanah), and time (zman), all share the same Hebrew root. They are connected.
Today is your opportunity and an invitation to cherish your present time as a gift. A time that will not happen again. How will you choose to spend it?
May you have a good ending of 2020 and may 2021 greets you with love and ample opportunities!
All my best,
Dorice