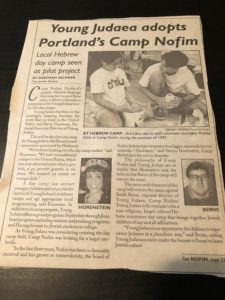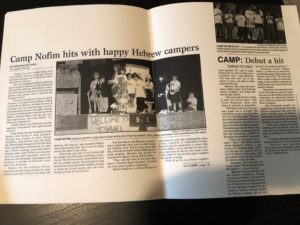 I was just talking to this magnificent lady the other day and it ached my heart. She shared with me the struggles she is now facing in recognizing who she is anymore. She used to be active in her profession, but health made her pause and change gears. Sometimes it is health, or life transitions that make us push the pause button and reflect of where we have come and where are we heading. And sometimes it is simply us, not sure where to go next. Does this sound familiar?
In 1996 I founded a Hebrew Immersion camp, called Nofim. I was teaching full time at the local Jewish private school, and I thought that it would be "cool" to start a unique summer camp. Oh, it was unique, alright — but it was also exhausting! With two small children (back then Hadas was 5 and Matan was 2), I ran this fabulous camp for 3 summers. In other words, I had no life.
I recall having a waiting list of kids whose parents wished for their children to be exposed to this fun and creative summer experience, but I also knew, after 3 summers, that it was time for me to hand it over. It was too much. So I found a way to keep it alive, a venue for the kids to still enjoy it, and for me to have life. I handed it over to Young Judaea which at the time was interested in exploring day camps. It was a smart choice. I had to find a way or fade away.
I just read a couple days ago in one of the magazines I receive monthly (ok, ok, I will admit my weakness– it was the O magazine!) this clever sentence– Find a way or fade away. I guess that is how I felt then. I needed to find a way to bring this camp to life, and then I needed to find a way to let it go. Because If I didn't, I would fade away. And that was not the desirable option, oh no!
So, when in life do you feel that you have to find a way? To create something special that only you can? And when do you sense that if you are going to keep the status quo of your life, you will fade away? I invite all of us to find a way to make and bring to life what you desire. Find a way to create that which your soul desires. If fading away is not an option, and it's not– than finding a way is the solution! For example—Find a way to explore the different opportunities we can have together to learn and grow Jewishly. Wouldn't that be a wonderful way we find together? Find a way, or Fade Away—the choice is ours! Let's make this choice something we can be proud of!
Yours always,
Dorice